Groove Funnels
Are you an entrepreneur just starting out and need a no-cost way to get started? Create and host your website for free, forever. A Free GrooveFunnels™Account gives you Access to 18 Powerful Apps. Sell unlimited products online with no monthly or transaction fees.
About This Service
If you are a solopreneur or just looking to get started with online marketing, Groove Funnels gives you FREE ACCESS FOR LIFE — NO CREDIT CARD REQUIRED
Your Free GrooveFunnels™
Account Includes Access to All 18 Of These Powerful Apps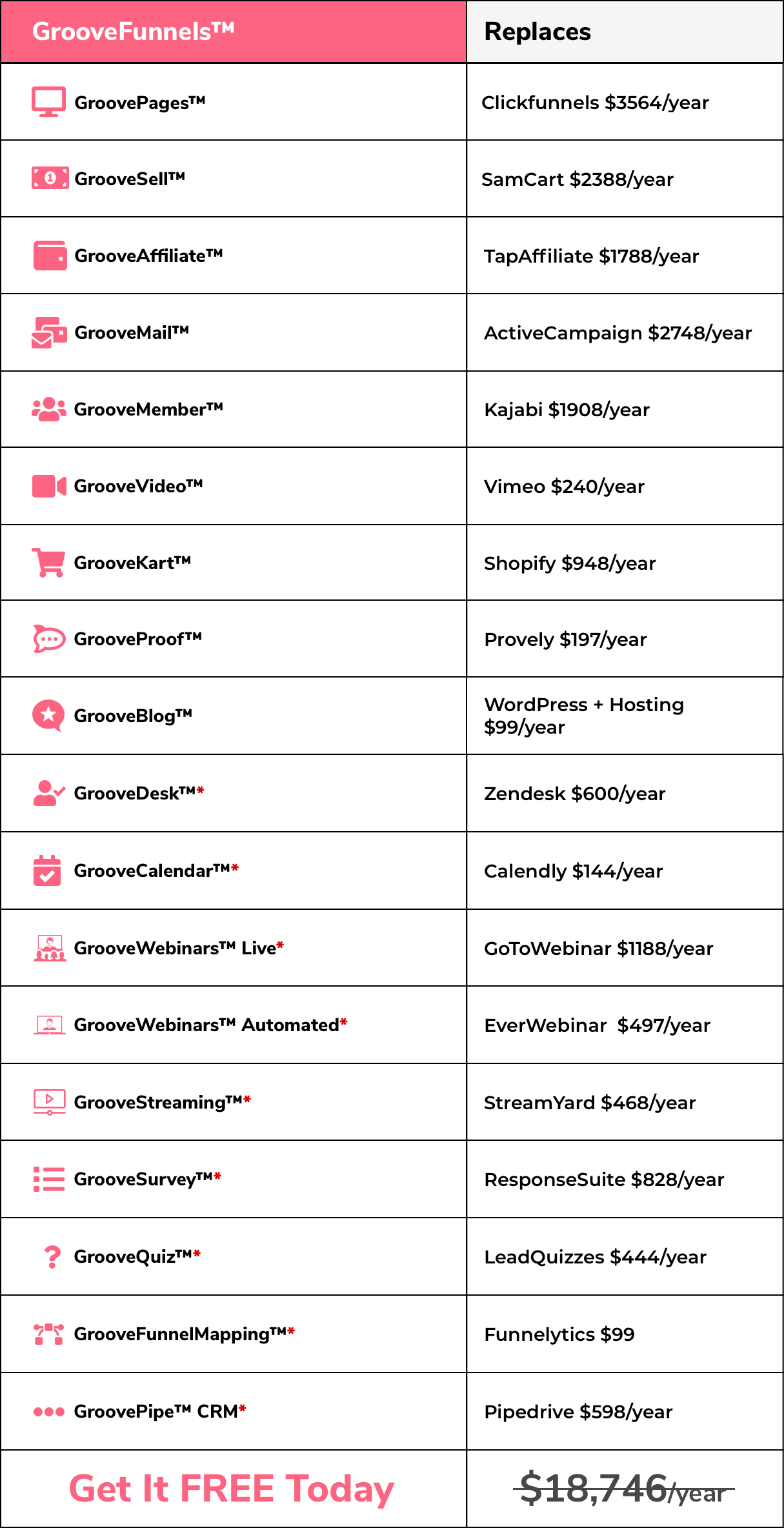 Your Free Account Includes Access to 18 Of The Most Powerful Apps Available Online
Instant Delivery
What's Included
GroovePages™
GrooveSell™
GrooveAffiliate™
GrooveMail™
GrooveMember™
GrooveVideo™
GrooveKart™
GrooveProof™
GrooveBlog™
GrooveDesk™*
GrooveCalendar™*
GrooveWebinars™ Live*
GrooveWebinar™ Automated*
GrooveStreaming™*
GrooveSurvey™*
GrooveQuiz™*
GrooveFunnelMapping™*
GroovePipe™ CRM*
Frequently Asked Questions
Q:
Is GrooveFunnels really free?
A:
Yes. A Free GrooveFunnels™ account Includes access to a suite of 18 apps
Q:
What is GrooveFunnels and what is included?
A:
GrooveFunnels is a Top-Level Brand of many of our apps in an ALl-In-One Platform for Digital Marketers and is meant for you to run your entire online business. Website- Page- and Funnel builder, Sales and Affiliate platform with a marketplace, Email marketing CRM, Video Platform, Membership, Webinar platform and more. Think Clink funnels but better, more affordable, and way more features. You can run your entire business on it. Apps include: Available now: GroovePages GrooveSell GrooveAffiliate GrooveFunnels officially launches in June late June: (Right now we are in Beta) GrooveMail GrooveMember GrooveVideo GroovePages for Shopify What are the Future products of GrooveFunnels? Coming Later in 2020 GrooveWebinars for Live Webinars GrooveWebinars for Automated Webinars Coming 2021 GrooveBlog GrooveDesk GrooveCalendar GrooveSurvey GrooveQuiz
Q:
What is GrooveKart?
A:
GrooveKart is an eCommerce platform to compete with Shopify. GroovePay is to get you a merchant account, GrooveAds is an Advertising agency. GrooveKon is our live event. GrooveSell Payments is an option for GrooveSell members to allow us to process like ClickBank where we handle all the payments and affiliate payments.
Q:
What is GrooveMail and is it part of GrooveFunnels?
A:
Yes, it is. It is a world-class email marketing solution CRM with Tag for Automation. It will also do Text and Voice broadcasting as well. Think ActiveCampaign but included and built-in.
Q:
What is GroovePages and is it part of GrooveFunnels?
A:
Yes, it is. It is a world-class page and funnel builder.
Q:
What is GrooveSell and is it part of GrooveFunnels?
A:
Yes, it is. It is a world-class digital sales platform.
Q:
What the Big Deal about GroovePages being compliant with Google's "Mobile-First Indexing?"
A:
We use and are the FIRST and only that we are aware of that can build websites, pages and funnels with. Mobile-first indexing means that Google will now ONLY use the mobile version of your page for indexing and ranking. So in a nutshell, if your pages are not built this way, kiss your rankings goodbye. Google talks about it here. But we basked it in for you so don't worry. Unless you're using something else.
Q:
What is the difference between GrooveFunnels and ClickFunnels?
A:
ClickFunnels is a great company with a great leader. They do one thing well. Funnels. We also do. But they are older technology with slow loading pages. They don't build brand websites, do email marketing, have an affiliate program. They cost a lot more and they are not as easy to use. To have the Funnel feature we have you have to pay $299 a month. And to get all the other apps from somewhere else you will be paying over $1400 per month for what we start at $99. There's no comparison. We are, by far, the best platform for digital marketers. Now you know and soon the world will know as well.
Q:
What is the difference between GrooveFunnels and Kartra?
A:
Mike Filsaime was the Co-Founder of Kartra, WebinarJam, and EverWebinar. While in development Mike brought in a new partner. They have creative differences. Mike took a buyout with a 2-year non-compete. Since then, Mike and his partners used crowdfunding to raise almost $2million to build this platform in 1 year what took 7 years before. Kartra Licences our OLD OUTDATED page builder technology. It is clucky to edit large pages and is not Mobile-First indexing. We have a more robust Sales and Affiliate Platform as well. We are more affordable and have a better development team and vision. Kartra is Good and will always be Mike Filsaime's "First Child." But getting to do it again, we were able to use new and 10x better frameworks. This platform is superior in every way. Period. We also will have an SDK to allow others to develop for it. The same reasons that made the iPhone, Android, Wordpress, Chrome, Firefox, and Shopify so great, will be the same as us.